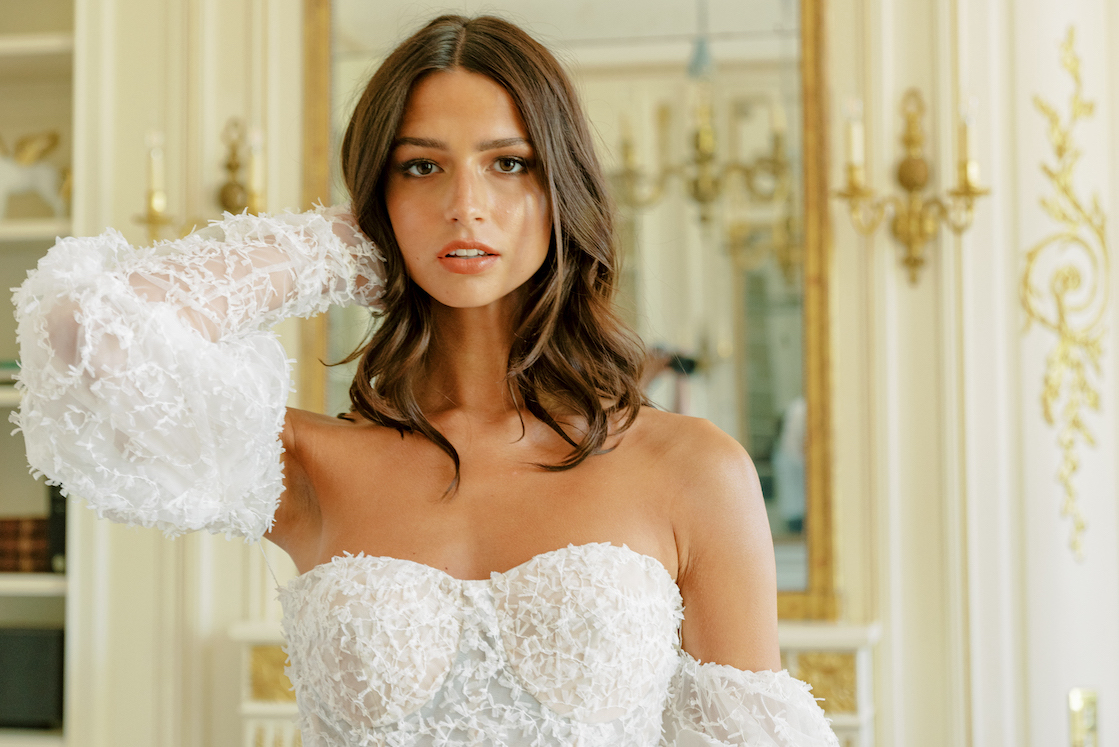 8 Tips to choose your wedding dress
We give you 8 tips to choose your wedding dress without making a mistake.
Aaah the choice of THE wedding dress ! Just the thought of it gives you stars in your eyes… You've been dreaming about it for a long time and now it's your turn!!! Yeah!
You have certainly already spent hours surfing on the internet to get an idea! But nothing is better than the fittings! Because yes, this wedding dress looks great on the model, but it may not fit everyone…
So head to the fitting room!
#01 | DETERMINE YOUR BUDGET
First of all, don't try on wedding dresses that are out of your budget, save yourself this painful ordeal… Never put on a wedding dress that you can't afford "just to see", at the risk of leaving completely defeated from this experience…. As far as the budget is concerned, you should count from €3.500 for a designer dress. The designers offer you a personalized service and the wedding dresses are handmade in beautiful materials, a precious know-how made in France!
#02 | SURROUND YOURSELF WITH THE RIGHT PEOPLE
Then, have 2 people maximum accompany you, and preferably by those who will give you an objective opinion, not someone who will find you sublime in everything (unless it is obviously the case!!) nor someone bitter who will tell you that nothing suits you… Trustworthy people therefore, on whom you can rely, your mother and your witness for example! The fittings are a privileged moment full of emotions, you must take advantage of it!
#03 | DO SEVERAL FITTINGS
Go back several times and try on wedding dresses with different cuts. It's much easier to get an idea of what fits you best and what doesn't. Trust also the expertise of the professionals who welcome you during your fittings in the boutique/showroom, they will be able to guide you and advise you. But above all, choose a dress adapted to your morphology, which will make you look good. And yes, it's your day, you will be the most beautiful!
#04 | HAVE YOUR PICTURE TAKEN
During your fittings, ask the person who accompanies you (or your photographer if you have chosen to immortalize them) to take your picture. Be careful to ask for permission beforehand as some boutiques/designers do not allow it.
Then look at the pictures in peace. It is much easier to project yourself this way and to realize how you look in your wedding dress. And best of all, it will make a nice souvenir of your wedding preparations!
#05 | CHOOSE A WEDDING DRESS THAT SUITS YOU
Also, choose a dress that matches your personality, because there's no way your future husband won't recognize you on the day or that you won't feel comfortable!
You never wear a dress in everyday life? Why not succumb to a pantsuit or a nice jumpsuit?
Long dress, short dress, jumpsuit…, the perfect outfit is the one in which you feel good, and that's the most important !
#06 | CHOOSE YOUR OUTFIT IN HARMONY WITH THE ATMOSPHERE OF YOUR WEDDING
Then, when choosing your outfit, think also about the atmosphere you want to give to your wedding (it would certainly be quite strange that you arrive in the same dress as Princess Sissi if you opted for a rustic wedding…). So look at the day as a whole, every detail counts, trust your wedding planner!
#07 | CHOOSE A COMFORTABLE WEDDING DRESS
And very very important: walk with the dress, sit, move, raise your arms… because it is good to check that you are free to move! You are going to wear it all day, make sure it is comfortable, it would be a shame if you don't enjoy your wedding because you can't breathe in your dress!
The tip: choose a suitable lingerie, there is now a solution for every outfit!
#08 | BUY YOUR DRESS BEFORE THE GROOM'S OUTFIT
Finally, buy the dress first, then the suit, because it is much easier to match the suit to the dress than the other way around!
Be careful with the color of the groom's shirt… If he chooses white, it is important that the white is the same shade as the dress, because otherwise, in front of an immaculate white shirt your dress will look dirty ladies! And that's not really the effect you want for your big day, is it?

My advice: when you buy your wedding dress, ask for a sample of the fabric so you can compare it to the white of the man's shirt. This will also help you to select your accessories.