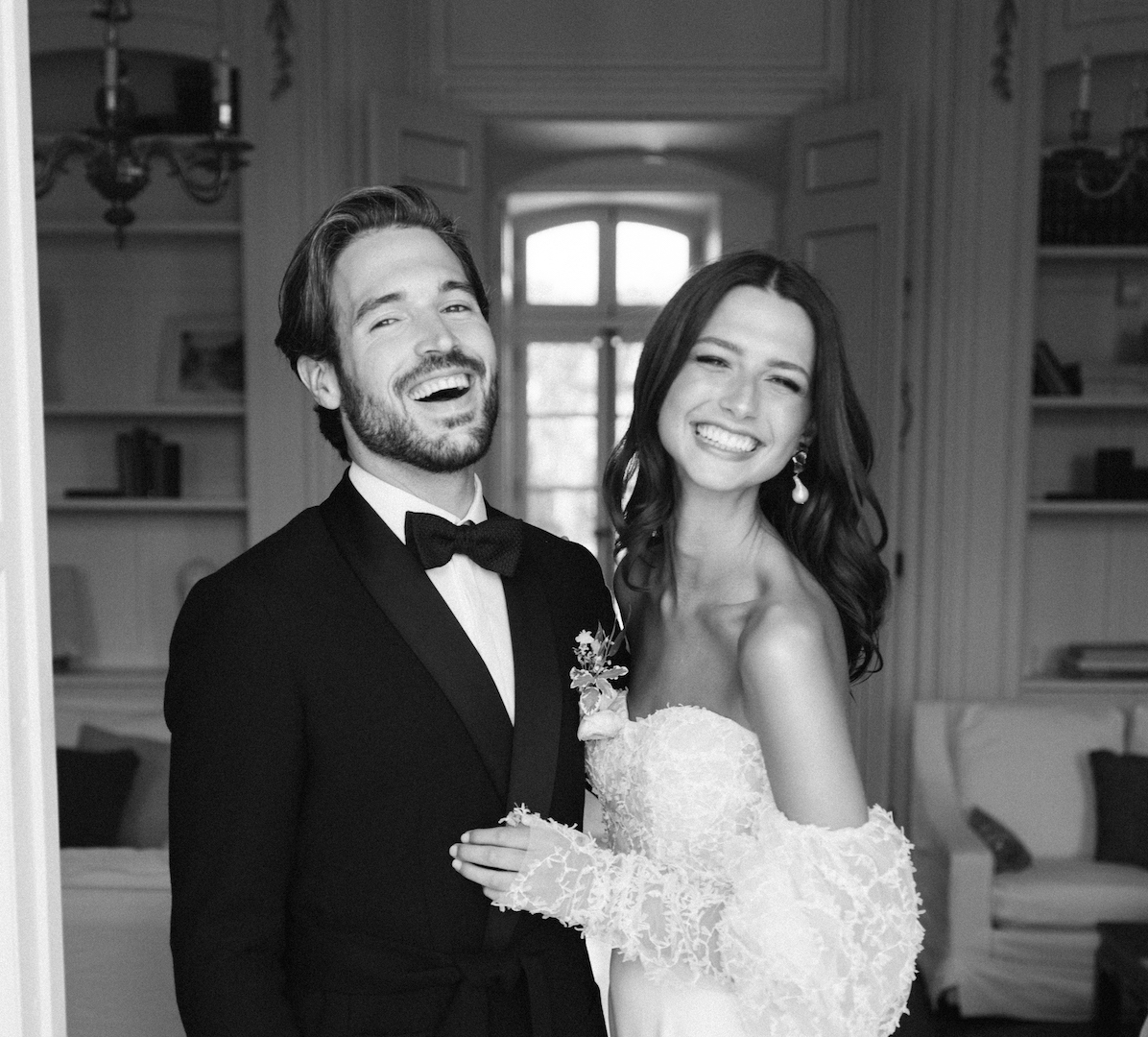 As the big day approaches, with the pressure and stress mounting, you are afraid of not being able to think of everything, and this idea makes you anxious. Don't panic, here are our tips to approach serenely on wedding day!
#01 | Make a to-do list
Put on paper everything you still have to do and what you need to take with you on the day. Tick or cross off the task as soon as it is done. It wil also free your mind and soothe you.
If there are things you can delegate, take advantage of them, for the bride and groom cannot be denied anything.
#02 | Anticipate: D - 1 week
Check your outfits: do you have everything you need? do you have both shoes of the same pair? 1 for the left foot and 1 for the right foot? If it makes you smile, know that future brides have already found themselves with 2 shoes on the same foot... it's real life experience!
Iron your outfits if necessary (be careful not to burn them, use soft iron) and hang them on hangers.
Buy in pharmacy 1 bottle of Tea Tree essential oil, it will save you in case of a pimple that points its nose the day before or the day of the wedding because of stress...
Don't test a new product for face and body the week before the wedding, because with stress you don't know how your skin will react!
A good diet: use and abuse fruit and vegetables, avoid alcohol, especially the day before your wedding, it would be a shame to arrive with a hangover...
Nothing beats a good night's sleep: on the eve of the wedding, go to bed early to be fit for the day!
#03 | Prepare your outfits and accessories before the Wedding Day
The rings and their support: hand them over to one of your witnesses
Your outfits
Your accessories (jewelry, stole, belt, watch, tie or bow tie, cufflinks...)
Your perfumes (do not spray on clothes to avoid stains!)
Your vows (if you organize a ceremony)
The bride's bouquet and groom's buttonhole: instruct a trustworthy person to pick them up and bring them to the place of your preparations.
Spare shoes in case of need (preferably flat)
1 spare outfit each in case
1 scarf to put on the dress without staining it
1 iron
1 clothes brush
Silicone soles to place in your shoes to soothe your feet
#04 | Prepare your "Wedding Day Survival Kit"
The survival kit, also known as Mary Poppins's bag, will save you a lot of inconvenience!
We'll put it there:
1 vial of talcum powder: to avoid sore feet (this limits friction and therefore blisters) and to hold the adhesive bra shells.
1 medicine kit (in case of migraine or stomach pain) + bandages in case of blisters + disinfectant
1 sewing kit: needles, safety pins, bridal dress thread, wedding dress thread, wedding suit thread, scissors
Handkerchiefs: for this emotional day
1 make-up kit for retouching during the day and evening (lipstick, mascara, blush, loose powder, anti-shine wipes, cotton swabs, tweezers, mirror...)
1 hairstyle kit (hair clips, hairpins, hairspray...)
1 beautiful umbrella in case of bad weather or sunscreen if the sun is part of the party
1 small snack in case of hypoglycemia (no chocolate biscuits that stain...)
Mint lozenges for breath
1 bottle of water
1 mist sprayer
1 deodorant (no question of spraying it on the dress or suit) or deodorant wipes
Removable wipes in case of stains on your clothes (be careful to make a test in a hidden place before rubbing the wipe frantically on your dress!
Batteries (we never know!)
Your mobile phone and charger
#05 | Organize
Bring the following items with you:
Wedding Day planning: it is THE indispensable document of your big day! Thanks to him, each vendor knows what to do and when. Unavoidable!
The planning of the party: very useful to the caterer and DJ in particular, it is also where the animations and surprises of your guests appear.
Contact information for vendors so that they can be contacted if necessary.
The rules of all your vendors: prepare several envelopes (one for each vendor) that you will give to a trustworthy person (your witness or wedding planner) who will deliver them to the different vendors.
#06 | Think about the details and your pictures
On the same day, if you wear a strapless dress or bare back, do not wear a bra to avoid marks on the back (same for socks: watch out for marks around the ankles if you wear pumps or sandals:))
Wear a top that you can easily remove without undoing your hairstyle (for example, a shirt or zipped top)
If you wear self-adhesive bra shells, do not put any moisturizer on your chest (otherwise they will not hold)
Ask the people who will be at your side for your respective clothes to prepare themselves before you because they will be on your photos: it would be a shame if your witnesses appear next to you in jogging!
Store and decorate the room where you are going to prepare yourself because the slightest imperfection in the decor will show up on your photos.
Use pretty hangers to hang your clothes
Remove unsightly labels from your clothes and accessories (e. g. those under your shoes)
#07 | Delegate
This day is yours, you only have to take care of yourself!! Entrust the various tasks to your witnesses, or better yet, to your wedding planner, your best ally so that everyone can have a good time and everything is under control!
#08 | Enjoy your guests
Some have come from far away to live these moments with you, so they will appreciate that you devote time to them. This day goes by so fast, so at the wine of honor, try to enjoy the guests who don't stay for dinner, they will be delighted to spend a privileged moment with you!
#09 | Think about yourself
Remember to eat and hydrate! This may sound silly, but you'll be solicited from all sides and access to the buffet may be difficult. Remember the "How I Met Your Mother" sitcom, Lily & Marshall's wedding, where the bride and groom end up in a fast food because they're hungry because they couldn't swallow anything during their wedding reception.
Ask someone you know to bring you something to eat and drink regularly. Take advantage of your couple's photo shoot to find yourself at 2, it's a real breath of fresh air in this day at 100 an hour!
#10 | Relativize, let go... enjoy!
Hours, months of preparation to organize everything and to think in detail, and the big day is finally coming! You want everything to be absolutely perfect, as you've dreamed it so many times.
Keep in mind that perfection does not exist and that even if you have anticipated to the maximum, you cannot control everything and it is possible that everything may not have been exactly as you had imagined. On wedding day, accept the unexpected and that everything is not perfect.
Remember: the most important thing is that you marry your soulmate and be surrounded by the people who matter to you and love you! Your wedding planner will be able to manage any unforeseen and reassure you no matter what happens! This day is YOUR day, let go, enjoy, enjoy, enjoy!